Founded in 1993, the Guadalupe Watercolor Group is dedicated to sharing new ideas and creative experiences with members and visitors alike. Meetings are held in the Forum at the
Kerr Arts and Cultural Center
, 228 Earl Garrett, Kerrville, Texas at 1:00 pm, the second Tuesday of September, November, January, March and May; visitors are welcome. Our programs are educational and inspiring, with speakers who are accomplished artists and teachers from far and wide. The group holds an annual exhibit which is juried by an invited artist who excels in the as world of watermedia. Our members may exhibit works done in any water soluble medium. The club also offers several workshops each year to help provide more learning opportunities to our members. We strive to create an atmosphere of shared mutual interests and encourage the exchange of ideas among our members.
Visit our Facebook Page
​February and April 2017 "Paint In" Results - Click Here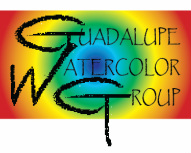 All images are copyrighted by the artists and may not be reproduced in any form without the written consent of the artist.